Is It a Good Idea to Get All of the Toasts Out of the Way During the Rehearsal Dinner?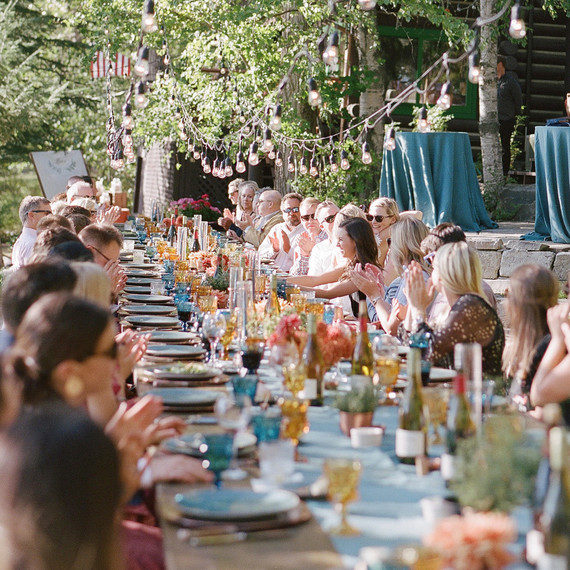 Once you start scheduling your wedding-day timeline, it quickly becomes clear that you're trying to squeeze a number of different things into a relatively short period of time. One detail you may feel like you just don't have the time for? Reception toasts. This is especially true if you're hoping to have more than just the father of the bride, maid of honor, and best man raise a glass. So, whether you're looking to free up more time for dancing or to give more guests the opportunity to speak, you may be wondering if you should plan to have speeches given at the rehearsal dinner rather than the reception. Here, points to consider before deciding one way or the other.
Toasts Are Great Ice Breakers
When you have a lot of toasts spread out over the course of the night, they're more likely to become platforms for storytelling. Event planner and co-owner of Bash Please, Sunna Yassin says, "If many of your guests will be at both the wedding and the rehearsal dinner, then it's a good idea to have most of the speeches at the rehearsal dinner. It breaks the ice and gives people things to talk about." That spirit of celebration and interaction is a great high to kick off your wedding festivities with.
Planning Your Timeline Around Toasts
At the wedding reception, there's generally a finite amount of time that can be dedicated to toasts. Usually they're sprinkled between courses of food or squeezed between the end of the meal and dancing. Rather than trying to cram too much into the reception timeline, Yassin says that getting speeches out of the way at the rehearsal dinner "opens up your wedding reception timeline for more dancing and movement during, and after, dinner service."
You'll Still Have a Few Toasts at the Wedding Reception
Most couples who opt to have toasts at their rehearsal dinner go with an open format that allows speakers to take their time telling stories and giving their congratulations. This allows the wedding night's toasts to be brief, heartfelt and quite a bit shorter. You might opt to have just the parents speak and give your own toast at the reception, or choose to let the best man and maid of honor give the toast.