4 Ideas for an Unforgettable Champagne Toast at Your Wedding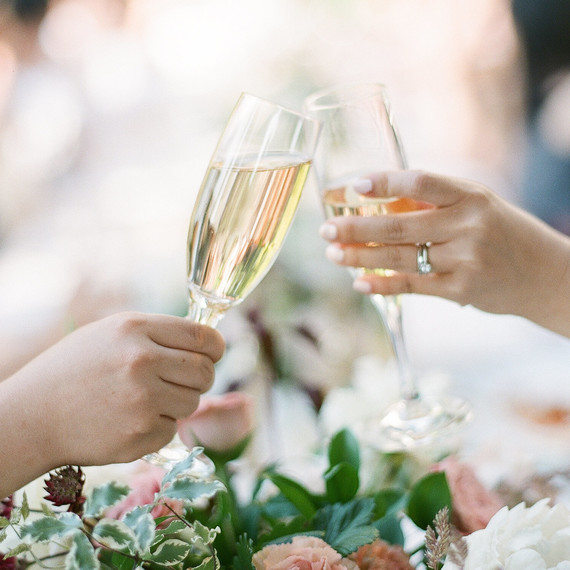 A Champagne toast at the start of the wedding reception is an elegant touch, but certainly not one that's required. If you're looking for a way to work this traditional detail into your celebration in a fresh, new way, you're in luck. Just because Champagne toasts have been done for years doesn't mean they need to routine: You can make the presentation as individual as the rest of your reception. Here, wedding planners share their favorite ways to do just that.
Go Sky High
Event planner Piper Hudson of Piper & Muse suggests having the couple open a Champagne bottle with a saber (yes: you have to practice first!) and setting up a tower of glasses they can pour the bubbly straight into. Champagne towers are a nice way to make this tradition interactive, and they make for stunning photo ops.
Perfect the Presentation
If you really want to go big, consider Julie Savage Parekh's, founder of Strawberry Milk Events, incredible idea: Suspend empty Champagne glasses from the ceiling of your event space using pretty ribbons, and have a stilt walker in tails and a top hat cut the glasses down and pass them to the servers. You could even create an even more acrobatic event with aerial rings: "Have an aerialist suspended from the ceiling to assist with bubbly refills right by the Champagne bar," says Parekh. Now that's a toast your guests will never forget.
Serve Bubbly in Cocktail Form
Don't feel like you have to stick solely with Champagne, either. Give your guests the freedom to come up with their own celebratory, one-of-a-kind toasting beverages. "We love the surprise of having a team of waiters push elegant carts through the reception space with ingredients for a variety of Champagne cocktails," says Allison Jackson of Pineapple Productions. "Things like colorful fruit purées, liquors, and garnishes like berries, candied ginger, citrus zest, and even herbs allow guests to custom create their own concoctions."
Stay Sweet
Think beyond the glass with a Champagne-inspired dessert table instead. "We like arranging trays of truffles, boozy popsicles, gummies, and macarons made with Champagne alongside other desserts like Champagne-infused layer cakes and sorbet sundaes topped with berries and bubbly," says Jackson.